Who We Are?
Innova Engineering Inc
is structured as a mechanical engineering firm specializing in product development services. The company focus is on the use of advanced CAE tools in the pursuit of effective product development.
Background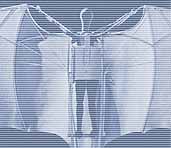 The company was originally formed as Leading Edge Design, in 1987 by John Cogger, as an engineering consulting firm in the mechanical engineering arena. The company grew to 11 full time engineers, and was sold to a nationwide technical services company in fall of 1991.
After the sale, a new company was formed, which was geared to product development, and relied heavily on sophisticated MCAD tools such as Parametric Technologies' Pro/Engineer solid modeler. An additional emphasis was on non-linear finite element analysis, using the MSC.MARC solver, MSC.DYTRAN AND PATRAN, and software prototyping be, which became a differentiator in the product design marketplace. This activity resulted in more than a dozen patents, primarily in the pharmaceutical industry.
A hallmark during this period was industry wide recognition of our expert level utilization of non-linear analysis applications, with these skills highly sought after by client firms. This extended into a similar level of expertise with various PLM tools such as Windchill and TeamCenter.
This expertise was a natural extension of our participation in the product development world, wherein we were asked to participate in the scale up and production aspects of the products that we designed for clients. This was a formulative period in the evaluation of our business model, as we determined that there was a significant demand for rigorous implementation of a robust design process, centering around FEA and other computer simulation tools in the conceptual area of product design.. Many of our clients lacked the infrastructure necessary to take advantage of these types of products and services, and these skills were quickly embraced by the medical and pharmaceutical communities in particular.
The result of this experience was a wide spread recognition among our clients of considerable experience in computer simulation tools in product design applications. This experience was based on "in the field" successes and real world implementations.
We began to formulate solutions to customer requests to add additional fidelity to the conceptual design engineering process, and we formalized our experience into a well documented series of process steps.
In March of 2000, the company was incorporated in California under the name of Innova Engineering Inc, with the express mission of providing access to these tools and processes, as well as database management expertise for the engineering community.
Description of Business Model:
The business model uses the experience gained during the prior 22 years of providing engineering services to discrete manufacturers, and encompasses the basic theme of technology transfer, wherein difficult problems are solved for client firms, and once proven successful, the methods, techniques, expertise, and software applications are transferred to the client.
The premise of the process driven conceptual engineering model is to reduce the cost of product development, while at the same time decreasing time to market. This is achieved by investing engineering man hours at the conceptual level to:
Predict component behavior during functional cycling.
Optimize component design to achieve best in class results.
Apply non-intuitive loadcases and evaluate the product performance.
Predict and correct potential failures before they occur.
Areas of expertise:
Material Selection with physical and mathematical validation
Product and Tooling Design and Detailed Development.
Manufacturing Simulation for Molding, Forging, Casting, etc.
Design for Manufacturing and Assembly.
Performance Based non-linear finite element analysis.
Product Prototyping and limited run soft tooling and first articles.
Method Development and Mentoring toward technology and software.
Advanced services are available:
Metal or carbon thermoset to reinforced fiber thermoplastic design work plan.
Computation Fluid Dynamics resulting in aggressive schedules and impact on design changes.
System Level Load Prediction including motion and dynamics.
Hi-Performance Computing for Design of Experiments or massive scale problems.
Design Optimization methods proven to minimize mass, shorten development cycles and improve performance.
Aerospace Flight Load, Aero-elasticity and Fluid Structure Interaction.
PLM implementations, upgrades and customization with focus on product development and engineering team release efforts.